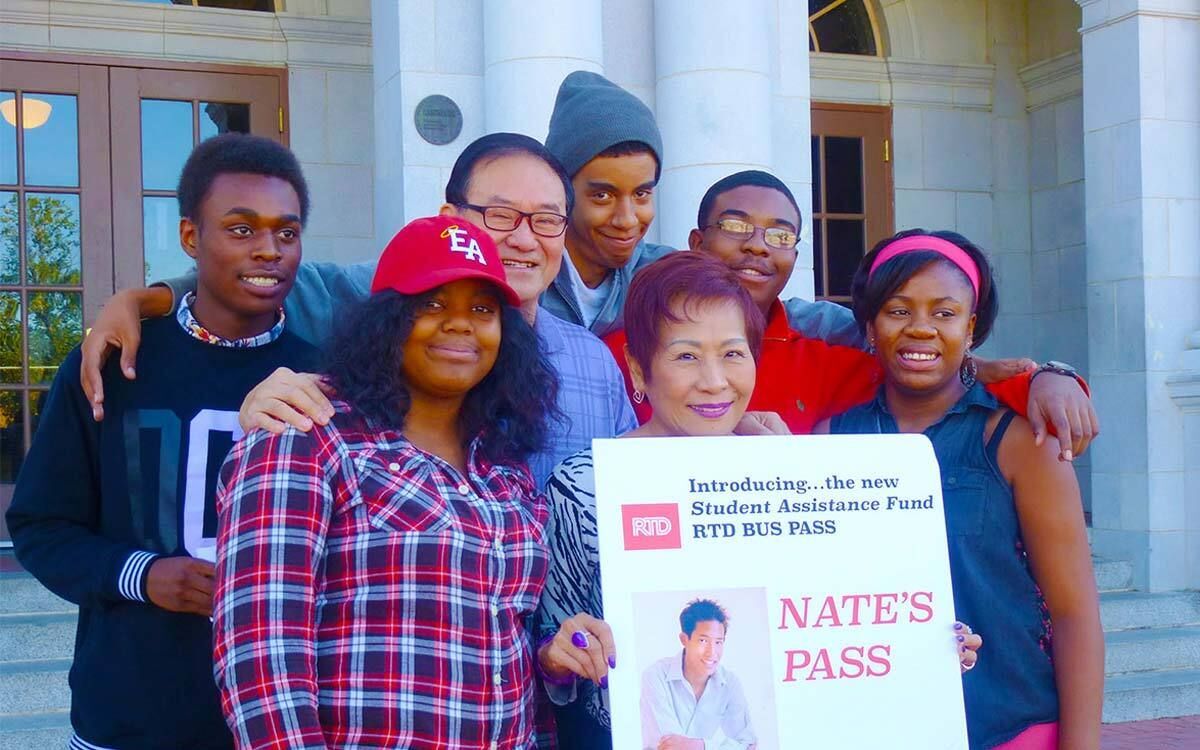 Since our founding in 2002, we've worked with many partner organizations to support education in Colorado. With the previous primary effort targeted in urban communities, we're excited to take the leap into focusing on the outlying rural communities throughout Colorado.
Below are the previous projects we've carried out.
NYF, in partnership with the Robert E. and Anne T. Sneed Family Foundation, underwrote the cost of providing over 4000 Scholastic books annually to over 200 students at Englewood's Cherrelyn Elementary School from 2014 to 2017.
This program allowed students to value books and promoted become more engaged in reading at home.
East High School Student Assistance Fund
NYF partnered with the Student Assistance Fund at East High School in 2014 to introduce Nate's Pass, a discounted RTD bus pass for qualified students to get to and from school.
Now in its third year, approximately 200 qualifying students will utilize Nate's Pass each month. As these students do not recieve school-funded transportation, this pass brings much needed financial relief to what is otherwise a daunting expense, allowing them to focus fully on their schoolwork.
"I cried after reading about the foundation and the help we were going to receive with a discounted bus pass. I cannot tell you how HUGE a discounted bus pass is for us!! It is the difference between eating and skipping meals. I am truly sorry that the loss of a child for one family is the reason another child benefits, but I had to let you know how important this truly is." – Parent
Through Friends of Nathan Yip and the 2015 Nate's Night event, sponsored a youth mentorship program for metro Denver students in 2016.
Through Friends of Nathan Yip and the 2015 Nate's Night event, provided scholarships for youth to attend Swallow Hill's Beginner Teen House of Rock Camp in 2015, developing music skills and giving them a fun and educational alternative summer camp program.
Provided scholarships to Denver Public Schools students interested in learning Chinese language and culture in 2014.
Denver Tech For All refurbishes recycled computers by wiping the hard drives and installing a new Linux operating system. Computers are then granted to low income students and their families, all around the Metro area at no cost.
NYF purchased supplies and hardware necessary to refurbish recycled computers.
NYF has connected Denver Tech for All with various partner programs worldwide, including at Tree of Life in Juarez, Mexico and school projects in Africa, providing computers and laptops for school computer labs.
NYF partnered with Tech For All to bring computers to rural communities. To date, NYF has facilitated the delivery of desktop and laptop computers to Eads High School (Kiowa County School District), San Luis Valley BOCES, Pleasant View Elementary School (Montezuma-Cortez School District), and the Ute Mountain Ute tribe.
Provided 21 computers to the Baker, Montbello and Fairmont campuses in 2015.
Purchased "loaner" sleeping bags for the Ford campus in 2015, where 93% of the students are identified as low-income, to ensure that all students had the opportunity to participate in "camp-in" field trips at museums around Denver.
Sponsored APDC's capital campaign in 2013 through a grant for the new Nathan Yip Resource and Research Library.
Contributed to the school's scholarship fund in 2012, increasing access to its English-Spanish dual language immersion program.
Partnered in May 2012 in an art exchange between students at Escuela de Guadalupe and the orphans of the Marian Children's Home in Ningde, China.
Created the Nathan Yip Foundation Scholarship in 2013 to pay tribute to youth who have made, or are making, positive contributions toward ending the cycle of relationship abuse by raising awareness and empowering themselves and others in their schools and communities.
My Book Foundation
Underwrote the cost of providing Caldecott and Newbery Award winning books to Denver Public Schools elementary school students in 2009.
Provided a grant toward the tutoring of 2000 students and their families at 20 partner elementary schools in Denver during the 2011/2012 school year.
Provided a Guardian Scholars Scholarship to two Denver students during the 2015/2016 academic year, helping them transition from foster care to independence by investing in their development and well-being.
Through Friends of Nathan Yip and the annual Nate's Night event, provided TI-83 graphing calculators to the incoming Freshman class of mentees in 2015, 2016, 2017, and 2018.
Provided 660 low-income students across the Denver-metro area with one-on-one literacy tutoring during the 2015/2016 school year.
Contributed to Colorado Uplift's youth mentorship programs, serving over 4000 urban youth in Denver in 2013 and 2015.
Contributed to college tour field trips for qualifying low-income youth in Denver in 2015.
Through Friends of Nathan Yip and the 2016 Nate's Night event, provided a grant for its school outreach programs, bringing world-class classical musicians to low income schools throughout Denver.
Through Friends of Nathan Yip and the 2016 Nate's Night event, provided a grant to assist with transportation costs associated with transporting summer students to its summer school program for at-risk students seeking a little more academic support.
Through Friends of Nathan Yip and the 2017 Nate's Night event, provided a grant to sponsor one community team in the annual Think Like a Genius Challenge, where youth groups competed in presenting innovative solutions to solving the issue of bullying.
Through Friends of Nathan Yip and the 2018 Nate's Night event, provided a grant to supply public schools throughout Colorado with musical instruments, art supplies, and scholarships to aspiring students for music and art lessons.